Messaging: a time-saver
Still hanging on the phone and your work is not even nearly finished? Customers are calling continuously and interrupt your current task? They describe the problem imprecise, the customer address was incorrectly noted or the customer wasn't even at home when you arrived – does this sound familiar to you?
You should not longer accept that situation and save more of your time! Phone calls cause delays and hassles that could be solved with messaging. Messaging allows you, e.g. to finish your current work before you answer any incoming messages. It is no need to immediately stop what you are doing and pick up the phone. Sending a message response even works a few minutes later. But there are many more advantages in using a business messaging system:
answer messages in the office on your desktop or mobile on your smartphone
Send pictures, videos or documents
Connect with other messaging services like Facebook, Messenger or SMS
…
Let us show you how your working day could look like using messaging in your business:
There are two problems with phone calls: phone calls are very time-consuming and complex problems can't often be described very accurate through the telephone. So, you only know the extent of the customer request when you see it, what makes the scheduling of time and equipment difficult. With messaging, everything gets easier. Believe us!
Customer communication starts in the office
If you get interrupted from your actual work through a constantly ringing phone or incoming SMS you can't do your work properly, right? With thismo messenger all of your incoming requests with messaging and SMS can be received and answered from desktop in your office. But you're still able to answer also with the mobile app when you're on the go. It makes one but decisive thing simpler: You decide when you answer!
Rich Messages for a faster and more accurate order description
With messages your customers are able to send you a description, pictures, videos and documents as well as the location which is quite important for you as a craftsmen. With these information you can provide an estimation of costs without having seen the problem on-site and schedule time and equipment accurately. And with the location of your customer you can easily navigate yourself to the right address without big effort.
Offer different messaging services for communication with thismo business gateway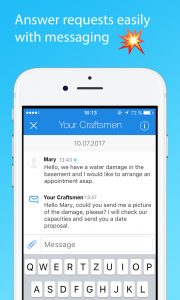 So, your customers won't call, they message you. So far so good. Normally you would provide one or two messaging services to get in touch with you since it would be far too complicated to handle all messaging services. With the thismo business gateway the messaging channel is your customer's choice. thismo messenger connects with different services like Facebook, Messenger, SMS, Web Chat and so on. You receive all those messages central in the thismo gateway on desktop or mobile and can answer right away. The response is consistent across all channels, eliminating the need to switch between many different apps and programs.
Improve your service and increase customer satisfaction because nothing is recommended so often to friends and family as a good and reliable craftsman! 😉
Start messaging with thismo messenger for a more efficient customer communication!
Still try to find out which messenger fits for your business? Read our article Which messenger is right for my business?